TV Death 'Welcome To The Feast' – Ltd Edition double EP Cassette Tape & Zine duo – Plus gig ticket – PRE-ORDER

Link below

**CLICK HERE FOR 'WELCOME TO THE FEAST' BUNDLES**
DTV are stoked to bring you 'Welcome To The Feast', a limited edition release from visceral post-punk/psychedelic/garage rockers TV Death, straight out of the north-east of England.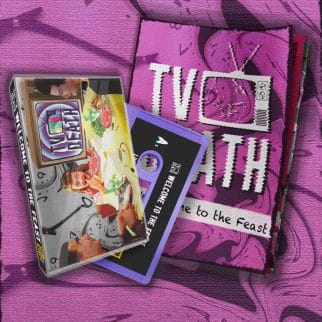 Released via DTV on Limited Edition recycled lilac cassette, this double EP is brought to you with an accompanying 12 page zine containing lyrics and photography of the band, rounding off the listener experience with a visual element reserved for owners of this collectable physical release. Only 50 copies of each exist.
Visceral post-punk/psychedelic/garage rock broadcast from the north-east of England
Combining punk with psychedelic ideals, Newcastle's TV Death transmit a potent brand of garage rock, with dark lyrics delivered with a distinctly sharp abrasiveness.
2021 proved to be an auspicious start for the group, as they played a host of dates across the UK, including gigs in London, Glasgow, Manchester and their native north-east, where they promoted their EP Isolation with a sold-out debut. Key single Crank Bugs was named one of Louder Than War's top 100 tracks of the year, while the EP's title track received play on BBC Radio 6. Here's what was said about their first release:
On the strength of this flawless debut EP, [TV Death] have the potential to be the best no-holds-barred rock & roll group to come out of Newcastle since The Animals. This is the start of something special.

Louder Than War
Blustery guitars, manic drum hits, and combative Richard Hell vocals. 2021 is the new Orwellian 1984. And [TV Death] don't like it all.

Turn Up The Volume
..complete with riotous rhythms, surfs up guitar sounds, fuzzy intensity and brooding The Eighties Matchbox B-Line Disaster-esque vocals. It's a darkly refreshing and relevant listen..

NARC magazine
Well, TV Death, you've got three new fans here… it's brilliant!

Craig Charles, The Funk And Soul Show, BBC 6 Music